That's right, AlertCops is the application that could save your life.
Indeed, AlertCops is a free mobile tool created by the Ministry of the Interior to enable direct communication with the Police and the Civil Guard.
Contacting the State Security Forces and Bodies is now easier and more direct than ever, especially in emergency or urgent situations for public safety. All thanks to a free mobile application created by the Subdirectorate General of Information and Communication Systems for Security (SGSICS), under the Ministry of the Interior of Spain: AlertCops.
The main purpose of this tool is to improve and facilitate public access to certain public services related to the Police and the Civil Guard.
In this way, anyone, regardless of their language, origin, or hearing or vocal disabilities, has the possibility to report to the State Security Forces and Bodies any criminal act or security incident of which they are a victim or witness.
AlertCops is therefore established as a new complementary channel to contact the National Police and the Civil Guard in a fast, direct, discreet, and effective manner. It streamlines the information request and response protocol, reduces response times, assists foreign individuals with a channel in their own language, and ensures accessibility for all.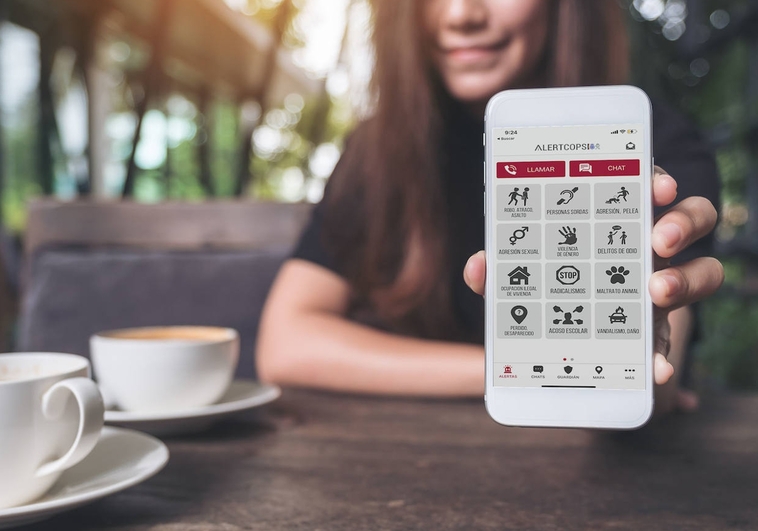 Sharing geolocation
One of the features included in AlertCops is the ability to share our location with trusted individuals to feel safer. Any family member or contact stored in the mobile phone's address book, as long as they also have AlertCops installed, can be our "guardian."
Once the trusted person accepts the guardian request, the user becomes a "protected" individual. As a result, the guardian can see the user's latest locations on the application's map.
There is also a subscription option similar to public security services, which allows for periodically sharing our location with the State Security Forces and Bodies. This way, we can be easily located in case of an emergency.
All of this is particularly useful and effective in resolving cases involving potentially lost or missing individuals.
Emergency buttons
On the other hand, there are several SOS buttons that can help us quickly contact authorities in exceptional situations for our safety or that of the public. The first one is the SOS Guardianes button, which allows us to request help with just a tap on an icon on the mobile device's main screen, requiring minimal interaction. The alert will be sent to our designated guardians, along with a ten-second audio recording.
The other button is the SOS button for vulnerable groups. It provides enhanced protection for victims of gender-based violence and healthcare professionals. They can also request help by tapping an icon on the mobile screen. The nearest police forces will be instantly notified for urgent assistance, accompanied by a ten-second audio attachment.