The Civil Guard recommends pilgrims who are undertaking the Jacobean routes in the province of Lugo to download the Alertcops application.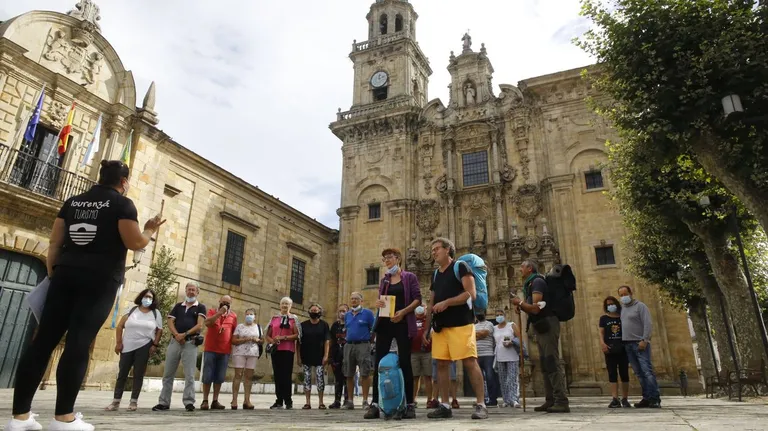 La Voz de Galicia · 23/06/2023
The Civil Guard provides a series of recommendations to pilgrims who are undertaking the Jacobean routes in the province of Lugo, although these recommendations are of a general nature and apply to pilgrims following any other route to Santiago de Compostela. First and foremost, the Civil Guard recommends downloading the Alertcops application, developed by the security forces themselves.
"Alertcops always by your side. It is the free app of the Civil Guard and the National Police Corps. It has multiple functions, and you can report any alert or emergency in real-time from your mobile device. Your location is automatically sent to police operational centers, ensuring that you are quickly located and assisted." This is the first recommendation.
"Always carry identification. Keep your ID card or passport with you and display it upon request by the competent authority, if required. Keep an eye on your belongings, especially personal effects, electronic devices (mobile phone, tablet, computer, camera), documents, money, and valuable items, especially in unguarded areas, high-traffic areas, or crowded places. Avoid unnecessary displays. Travel light. Do not carry large amounts of cash and distribute it among your equipment and regular clothing in hard-to-access places such as inner pockets. Take note of your mobile phone's security PIN, PUK, and IMEI codes."
It also recommends walking the path in the company of others. "It's better to walk in company and during the day. The experience will be even more memorable if you share it along the way. Avoid walking alone (especially if you are older) and, if possible, between the months of November and March. Try to make your journeys during daylight hours and rest or engage in cultural visits on days with unfavorable weather conditions."
"Leave no trace behind. Respect the environment, which is invaluable and irreplaceable. Use designated facilities for waste disposal. Do not collect living organisms (flora, fauna) or landscape elements. Camp in authorized and designated areas. Do not make inscriptions, marks, or graffiti on stones, trees, landmarks, informative signs, or any other natural or directional element. Do not start fires in the woods, do not indiscriminately discard cigarette butts, and be alert if you observe any risky situation or a potential fire. Respect private property and the locals, without disrupting their daily lives. Be courteous to other pilgrims as well."
"Be cautious of strangers, especially if they approach too closely under any pretext (such as asking for something or offering to help you with your belongings) or if they accidentally bump into you. Also, do not trust anyone who recommends shortcuts, points of interest, or services off the route. Take care of common facilities (hostels, information points, rest areas, and supply points), landmarks, fountains, signs, information panels, and other directional elements. Leave everything as you found it; those who follow you will appreciate it." It concludes by recommending the preservation of heritage and ensuring that family members or close contacts always know your whereabouts.